Discover Hoi An ancient town one day
August 12, 2016 / byJane / Categories : Travel
Hoi An is one of the UNESCO Heritage sites in Vietnam. It is a unique place to visit because of the preserved architecture found in the old city. This ancient town is a popular tourist destination that one must not miss when given a chance to explore the beauty of Vietnam. You can find this city in the central coast of Vietnam in the Quang Nam Province. Coming to this city is easy because from the nearest airport, you can just get a taxi and you will reach the city in about 30 minutes or less. If you were given a chance to discover the ancient town of Hoi An in one day, you will surely appreciate the beauty within it.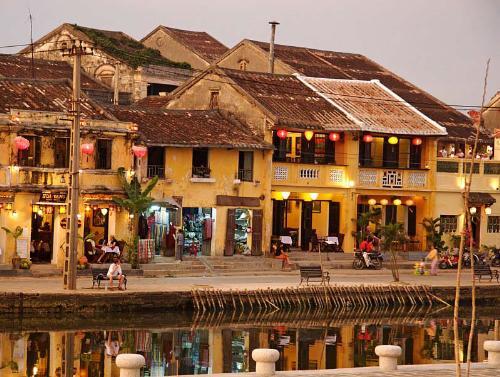 Explore the Old Town and grab your Banh Mi sandwich for a walk. This local cuisine will surely be a relief to your hungry tummy. Now, check out the bridges around. You will find the famous Japanese covered bridge and next, you will find a narrow bridge that connects the downtown. Now, go to the museums or assembly halls, old houses in the Old Town.
Of course, do not fail to try other Vietnamese cuisine for your lunch. Go to Vietnamese restaurants and look for the Cao Lau, it will surely be on the menu. This is a noodle soup that is different from the other noodle soup that you can try in Vietnam. Aside from that, try the white rose dumpling, which are shrimp-shaped dumplings and it is with a glowing cover in a rose-shape.
How about trying to cruise the small channels in the town. You may get a boat and sail along. It will be fun to get a boat ride and enjoy the scenery of the old architecture.
Why don't you visit the countryside of Hoi An? You will surely find the place stunning. You will find the simple way of living because many of them are working in the rice fields with friendly faces living in the simple conical hats. It might be far different from a city life, but you will surely appreciate it.
Tour price is cheap here because most of the old town are the works can watch for free. You should buy a tour at one of the reputed suppliers based locally in Hanoi or Ho Chi Minh City. Viet Fun Travel is a good choice.
It would be nice for a tourist to get a tailored dress, bags and shoes from Vietnam because it will be a good souvenir. You must be aware that the city of Hoi An has a huge industry when it comes to custom tailoring. You will find about 400 tailoring shops with skilled tailors, so why not get some to keep. It will be the best remembrance from Hoi An.
It is also good to visit the lantern market because at night you can appreciate the beauty of the outdoor traditional theatre with Vietnamese folk dancer performing and the mystical row of lighted lanterns.
That's it for your day tour of the ancient town of Hoi An. It is just a day for your exploration, but pretty sure that you will discover many things in the city. You can learn new things and you will learn to appreciate the preserved culture and architecture of Hoi An.